Visitation: Wednesday April 4, 2012 2 to 8 PM Family present from 6 to 8 PM Anderson Funeral Home
Service: Thursday, April 5, 2012 10 AM Canton Lutheran Church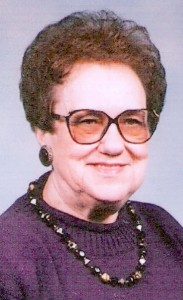 Canton.  Gladys P. Hill, age 91, passed away Sunday, April 1, 2012 at Canton Good Samaritan Center.  A celebration of life will be held at 10 AM Thursday, April 5, at Canton Lutheran Church, with burial at Forest Hill Cemetery near Canton.  Visitation will be Wednesday from 2 to 8 PM at Anderson Funeral Home in Canton, with family present from 6 to 8 PM.  
Gladys Palma (Knutson) Hill was born July 27, 1920, at her parents farm home near Canton, SD in Lincoln County, to Peter and Caroline (Christopherson)  Knutson.  She attended Pleasant Valley #74 rural school.  On February 4, 1942, Gladys was married to Charles Hill at her parent's home.  They lived in Canton and rural Canton all their married life.  They lived in their home in Canton from 1961 to May of 2011, when they became residents at Canton Good Samaritan Center.  They raised two children: a son, Larry and a daughter, DeAnn. 
Gladys was a loving wife and mother and devoted her life to her husband and children.  She was a member of Canton Lutheran Church.  She loved to spend time shopping for clothes at the malls in Sioux Falls and eating out with her husband Charles and family at the many good restaurants in Sioux Falls and the Canton area.  She loved her home and enjoyed playing cards, playing her mouthpiece (harmonica) and spending quiet time at home with her husband and family.
Gladys is lovingly remembered by Charles, her husband of 70 years,  her son, Larry and his wife Yong of Fairmont, Minnesota and her daughter, DeAnn Belcher of Phoenix, Arizona; 3 grandchildren: Robbie Belcher, John (Jamie) Hill, Diane (Cameron) Serk; and great-grandchildren: Mason and Lauren Hill and Harrison and Parker Serk.
In addition to her parents, Gladys was preceded in death by 4 sisters: Camella Sundvold, Myrtle Sundvold, Alice Rusten and Frances Drost; and 5 brothers Arthur, Floyd, Clarence, Palmer, and Milford.