Service: A graveside service will be held at 10 am Saturday, October 6, 2012 at Woodlawn Cemetery in Sioux Falls.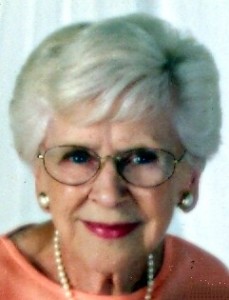 Fryda Gudmundson Johnson, age 98, life-long resident of Sioux Falls, passed away peacefully on July 20, 2012, in Plano, TX. Preceded in death by her parents Olai and Annie, her four brothers Arthur, Gerhard, Oliver, and Milton in earlier years, an infant son, her beloved husband, Lawrence, in 2006, and her grand­daughter Carly Johnson in 2009.   Fryda is survived by her daughter Karen Noll of Plano, TX, and her sons Dr. David and Maribel Johnson of Carrollton, TX, and Dennis and Lisa Johnson of Mountain Brook, AL. Grandchildren include MSgt John and SrA Erin Noll (USAF)of Sanford, NC, Sara and Scott Brow of McKinney, TX, Dr. Gon and Tiffany Sanchez of Pierre, SD, Jed and Nici Johnson of Sidney, NE, Chloie and Chelsey Johnson of Mountain Brook, AL, Jon and Laurie Hoffman of Corpus Christi, TX, and Matthew Johnson of Taiwan. Great-grandchildren include Rachel Klaassen, Morgan Noll, Cougar, Peter, Riggs, and Lily Sanchez, Jack, Jonas, and Joel Johnson, and Elijah Johnson.
Born on January 29, 1914 on the Gudmundson farm, Fryda attended rural county school, Augustana Academy, and Augustana College, where she received her State Teaching Certificate. Fryda received her B.A. Degree in Education from Sioux Falls College. Throughout her years in the classroom, her first 6 in the Lincoln County Schools and the last 20 years in the Sioux Falls public schools, Fryda touched the lives of many of her students.
Fryda and Lawrence were married for 65 years and had been members of Our Saviors Lutheran Church for 50 years. Due to Lawrence's failing health, in 2003, Lawrence and Fryda moved to Plano, TX, to live with their daughter Karen. Both were forever grateful for the loving care and support they received from family and friends, near and far, during this time.
In honor of Fryda's wishes to be cremated, a graveside service will be held at 10 am Saturday, October 6, 2012 at Woodlawn Cemetery in Sioux Falls. www.anderosnandsonsfh.com