Service: Memorial services will begin at 11:00 a.m. Saturday, March 27 at Grand Valley Lutheran Church, Canton, SD.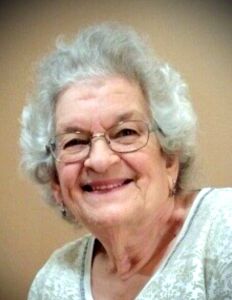 Frances Mathilda Hoffman Sprague was born on March 28, 1934 and passed to the Lords waiting arms on Monday, November 2, 2020.
          She was born to Frank and Josephine Hoffmann, the third of five children. Frances was born and raised in Lebanon, SD where she was baptized and confirmed in the Lutheran faith, and proud of graduating from high school.
          She met her husband, Robert C. Sprague and married in 1958. Together they had 4 children, Carolyn Sprague (deceased 2010), Rhonda Wynkoop (Kevin) of Visalia, CA, Phillip (Rose) Sprague of Cozad, NE, Janelle Thom (Paul) of Worthing, SD. Her grandchildren were the ultimate light and joy of her life, Frances & Holden Wynkoop, Nick (Jenny) Maestas & IdaRose Sprague, Brant & Tye Thom (Lindsey Pate). Great-grandchildren Jack and Miles Maestas.
          They raised their family in Gettysburg, SD, Anchorage Alaska and then to Huron after the devastating earthquake of 1964 in AK. Then moved to the Sioux Falls and Hartford SD area.
          Frances was very committed in her faith and raised her children in faith also and loved being a Sunday school teacher
          Over the years Frances enjoyed bowling, reading, dancing, jigsaw and crossword puzzles, as well as attending Thunder Valley Dragway racing and traveling to California and Nebraska to spend time with her family. She had the greatest enthusiasm for sports with the Minnesota Vikings being her ultimate favorite. But mostly, any grand children's activities especially cheerleading, her grandsons on at their football games in Canton and she's remembered well by those who knew her with her "go-go-go" on the sidelines.
          She did have a few of weaknesses though – ice cream, coffee & Cadillacs.
          There's no denying Frances was a dedicated hard-working woman, starting at the age of 4 cleaning with her mom, after High School she worked at the State Capital in Pierre. She then moved with friends to Chicago and worked in banking. After marrying she worked in Anchorage in banking. She was a homemaker for many years, then did payroll at Meilemans, worked a short while for Litton's, then retired after 12+ years with Citibank, earning the President's Award and 10 years Perfect Attendance Award.
Memorial services will begin at 11:00 a.m. Saturday, March 27 at Grand Valley Lutheran Church, Canton, SD.