Visitation: Visitation will be Friday from 5 to 8:00 p.m. at St. Dominic Catholic Church, with a scripture service at 7:00 p.m.
Service: Mass of Christian Burial will be Saturday Jan. 13, at 10:00 a.m. at St Dominic Catholic Church in Canton.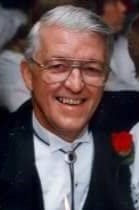 Edward Bruce Oliver died on Monday, January 8, 2017 at the age of 83. A simple man who exemplified the meaning of faith, strength, and family.  Visitation will be Friday, January 12, from 5 to 8 PM at St Dominic Catholic Church, Canton, SD, with a scripture service at 7 PM. Rosary will precede this. Mass of Christian Burial will be on Saturday, January 13, at 10:00 AM at St. Dominic Catholic Church in Canton, SD.
                Ed was born on May 29, 1934 during the heart of the depression in Canton, S.D to Bruce and Jennie (Anderson) Oliver. The day after he was born, his aunt Lucille, a caretaker at the facility, removed a thick layer of dust from him before carrying her nephew into his mother's room. He often recalled that even though it was a time of great hardship, he only recalled happiness and joy.  Ed graduated from Canton High School in 1952 and maintained lifelong friendships with his buddies Dick Haisch, Lyle Hoff, Lester Anderson and best friend Carroll Fossum. Carroll told him last year, "Eddie, you're going to be the last man standing!" He was right.
                On June 30, 1956, Ed married the love of his life, Jeanne Schwebach, in Sioux City, Iowa. Soon after, he joined the Army and the two of them lived in El Paso, Texas. After completing his service, Ed worked for Raven and helped launch and collect weather data balloons. He always stated this job was more fun than work and afforded him the opportunity to fly anywhere from Texas to Canada and adventures too numerous to count.
                In September 1963, Ed and Jeanne welcomed their first child, Kimberly, into their home. Son, Christopher, joined the family in 1967 and another daughter, Victoria in 1971.
                In 1981, Ed moved his family to the Oliver Homestead, just west of Canton. Soon after, he felt called to serve the Lord and was ordained a Deacon of the Catholic Church in 1984. Ed served as a Deacon at St. Dominic Catholic Church in Canton until his retirement in 2004.
                Ed was a gentle and humble man who loved genealogy and anything tractors! With the last name Oliver, it really should come as no surprise! In 1985, Dad and his brother, Ralph, became involved with the Granite Threshing Bee in Granite, Iowa. For 30 years, Ed became known as the 'Voice of the Bee", announcing the tractor pull and the parade. The members would turn into more than just friends, they were family.
                Ed is survived by his loving wife of 61 years, Jeanne; children Kim Ober, Savage MN; Chris (Denise), Bangor WI; and Vicki (Dan) Voss, of Canton, SD; nine grandchildren, Alyssa, Sarah, and Kristen Ober; Coey and Orrin Oliver; and Rowdy, Sterling & Casey Hillmer and MaKenzie Voss; siblings Ralph, Sioux Falls and Linda (Carl) Larson, Brandon, SD; brothers-in-law, Keith (Jovita) Schwebach and Don (Darlene) Schwebach, all of Sioux City, IA.
                Preceding him in death were his parents, Bruce and Jennie; sisters LuAnn and Clarice; sister-in-law Judy Oliver; nephews, Vaughn and Curtis Schreurs and Nathan Larson; and great-nieces Jennie and Clarissa Minihan; as well as many cousins and dear friends.
             Memorial donations may be made to the charity of your choice in Ed's name. A few of his favorites are Avera Hospice, Alzheimer's Association, and the American Bladder Cancer Society.