Visitation: Visitation will be Friday, May 24, from 5 to 8:00 p.m. at Heritage Funeral Home in Sioux Falls, with a Scripture service beginning at 7:00 p.m.
Service: Mass of Christian Burial will be at 11:00 a.m. Saturday, May 25, at St. Dominic's Catholic Church in Canton.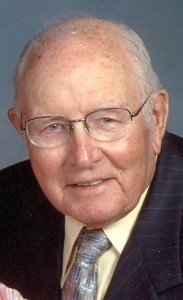 Dr. Raymond Bunkers, 91, formerly of Canton, passed away Wednesday, May 8, 2013 at the VA Medical Center in Sioux Falls with family present.  Mass of Christian burial will be at 11:00 AM Saturday, May 25, at St. Dominic's Catholic Church in Canton.  Interment will be at Forest Hill Cemetery at Canton with military honors.  Visitation will be Friday, May 24, from 5:00 to 8:00 PM at Heritage Funeral Home in Sioux Falls, with a scripture service beginning at 7:00 PM.  In lieu of flowers, memorials may be directed to St. Francis House, VA Palliative and Hospice Care, or Forest Hill Cemetery Association.
                Raymond B. "Doc" Bunkers was born June 28, 1921 in Colman, SD to Al and Signe (Olson) Bunkers.  He attended school in Colman, graduating in 1939.  He entered the US Army in 1940 and served in the Pacific Theatre during WWII.  He was honorably discharged as a Master Sergeant and was the last surviving member of the 147th Field Artillery Battalion out of Flandreau, SD.  Following his discharge in 1945, he attended Augustana College in Sioux Falls and went on to Northern Illinois College of Optometry in Chicago.
                Ray married Dolores Lendt on September 28, 1946.  Soon after his graduation in 1948, they moved to Canton, where Ray opened his optometric practice.  He retired in 1989 after 41 years in business.  Ray was actively involved in Canton and a tireless supporter of his community.  An active member of St. Dominic's Catholic Church since 1949, he served on its building committee and was a member of Holy Name Society, Knights of Columbus, and Catholic Order of Foresters.  He was a long-time member   and served as post commander of the American Legion, and VFW, as well as president of Lions Club, and Canton Chamber of Commerce.  He served on the City Commission for 8 years, he was a member of the Forest Hill Cemetery Association for many years, and he was on the Colonial Village Board.  Ray was past president of the South Dakota Optometric Association and the North Central States Optometric Conference/Council. He also served as secretary of the SD State Board of Optometry for several years under the appointment of Governors Kneip, Wollman, and Janklow.  He was an active supporter of Legion Baseball and enjoyed carpentry and building.  Ray was selected as the Canton Citizen of the Year.
                Grateful for having shared his life are his children and their spouses:  Pamela (Bob) Lillibridge, Cedar Rapids, IA; Thomas (Donna) Bunkers, Tucson, AZ; Julie (Jimmy) Franken, Indianola, IA; Signe Espinoza, Centennial, CO; Daniel (Lara) Bunkers, Des Moines, IA, and Paul (Lori) Bunkers, Sioux Falls, SD; 19 grandchildren; 16 great grandchildren; and brother, John Bunkers, Weston, Wisconsin.  He was preceded in death by his wife, Dode; his parents; one sister, Darlene Sheridan; and three brothers, Don, Phil, and Steve.
                Ray always considered Canton his home, and for the past 6 years since Dode's passing, had stated multiple times he couldn't wait to see his "Dodie" again.  God bless the memory of Ray Bunkers and may the Angels lead you into Paradise. andersonandsonsfh.com