Visitation: Visitation, with family present, will be Friday from 5-7 p.m. at Anderson Funeral Home in Canton.
Service: Memorial services will begin at 2:00 p.m. Saturday, July 24 at Lands Lutheran Church, rural Hudson, SD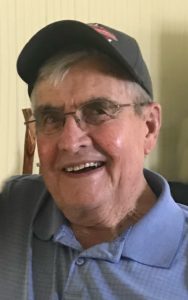 Dennis Charles Aasheim, 80, passed away peacefully surrounded by family on Tuesday, July 20, 2021 at Ava's House in Sioux Falls, SD.
Born October 27, 1940, in Canton, SD, Dennis was the only child of Lloyd and Hazel Aasheim. He graduated from Canton High School and attended Southern State College in Springfield, SD for electronics. In 1963, Dennis married Rae Saunders from Chance, SD, and they made their home in Canton, SD. Dennis was drafted into the Army in 1966 and was stationed at Raven Rock Mountain Complex – Site R near Fort Richie, Maryland, where he serviced and operated audio-visual equipment. After serving in the military, Dennis and his family moved back to Canton and started a television repair business, "Denny's TV." After a few years in the electronics business, Dennis began farming full-time on the family farm in Canton, also helping on the Saunders family farm in Chance.
Dennis was an excellent electrician and mechanic, and enjoyed many hobbies such as fishing, bowling, and golfing with friends. He was a car and motorcycle enthusiast as well, owning numerous nice cars and bikes in his lifetime. Much of Dennis' vacation time was spent fishing with the family. In his later years, he enjoyed spending time at the family's lake home on Big Stone Lake in Northeastern South Dakota. In addition, Dennis was an avid fan of music, and greatly enjoyed working with stereo equipment in his home and shopping for instruments for the grandkids.
Dennis is survived by his wife, Rae, and three children, Rodney (Ann) Aasheim, Eric (Kristen) Aasheim, and Emily (Steve) Plucker. Dennis and Rae were blessed with ten grandchildren: Ben, Grace, and Gavin Aasheim, Caden, Brady, Marcus, Cole and Owen Aasheim, and Seth and Macy Plucker. He and Rae greatly enjoyed attending numerous athletic and musical events with their children and grandchildren.
Dennis was a member of Lands Lutheran Church, rural Hudson, SD, where services will be held on Saturday, July 24 at 2:00 p.m. Burial will follow at the Lands Lutheran Cemetery. Visitation will be Friday, July 23 from 5-7pm, with family present, at Anderson Funeral Home in Canton.