Service: Burial of her cremains at Sunset Memorial Gardens in Aberdeen, SD will take place at a later date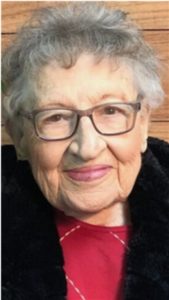 Delores Sandmeier, age 92, died Monday, November 6, 2023 at Good Samaritan Society Canton.  Burial of her cremains at Sunset Memorial Gardens in Aberdeen, SD will take place at a later date.
Delores Velma (Aman) Sandmeier was born on February 7, 1931 in Roscoe, South Dakota to Emil and Otellia (Geist) Aman.  The family moved to Aberdeen in 1944 where Delores spent most of her life. In July of 2021, Delores relocated to Good Samaritan Nursing Home in Canton, South Dakota and lived there until her passing on November 6, 2023.
In 1949, Delores met the love of her life, Elmer (Sandy) Sandmeier.  It was a match made in heaven as the two shared a passion for music and dancing.  You could often find Delores and Sandy out on the dance floor "cutting a rug" for hours on end. On October 16, 1949, two hearts became one as the young couple united in marriage.  Their union produced five children: Sandra, Pamela, Connie, Donald and Troy.  But tragedy struck Delores in 1970, when Elmer passed away and again in 1984 when her oldest son, Donald passed away.  Throughout the years, Delores found many jobs and activities to keep herself busy.  She worked at Sears and Roebuck and Montgomery Ward in numerous departments for several years and an additional 16 years as a Nanny to various families in Aberdeen.  For pleasure, she spent countless hours on her hobbies and interests which include sewing, embroidery, working on puzzle books, and, of course, cooking wonderful meals for her ever growing family. Like her mother before her, Delores possessed a wonderful sense of humor and was always quick to enjoy a good laugh.
Survivors include her four children, Sandra (Rod) Ulrich of Madison, South Dakota; Pamela (Ron) Stoecker of Black Hawk, South Dakota; Connie Stewart (Jack Johnstone) of Lone Tree, Colorado; and Troy Sandmeier of Sioux Falls, South Dakota; sisters, Loretta Podoll and Arlene (Larry) Knoll and brother, Verlyn Aman; ten grandchildren and seventeen great-grandchildren.  She will be greatly missed by each and every one.