Visitation: Visitation will be Monday from 2-7 p.m., family present from 5-7 p.m., at Anderson Funeral Home in Canton.
Service: Funeral services will begin at 10:30 a.m. Tuesday, October 5 at Lands Lutheran Church, rural Hudson, SD.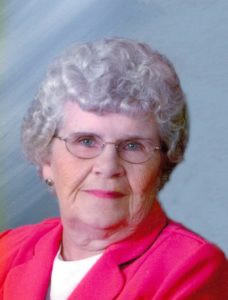 Delores Elaine Johnson was born January 11, 1931 in Fairview,  South Dakota to Borghild (Hanson) and Oliver Roti. She was the oldest of four children. Delores was raised in the Fairview/Hudson area and attended school in both Fairview and Hudson before attending college in Madison, SD where she earned her Teaching Degree.    She taught school at Eastview Country School.
            Delores married Mahlon C. Johnson at Trinity Lutheran Church of Rural Hudson on April 28, 1951. They farmed for over 40 years, continuing to live on their farm until 2011 when they moved to Canton, SD.   In 1982 they began dividing their time between South Dakota and their second home in Mesa, AZ where they spent many warm winters with numerous friends and relatives who wintered there.  They also enjoyed many vacations together to Europe, California, New York, Boston, Washington, DC and other locations.  Most of all, they enjoyed spending time with family and friends, especially if they could start up a good game of cards!
             Following Mahlon's death in 2016, she moved from Canton to Sioux Falls where she lived at The Inn on Westport until December 2020 when she moved to Pioneer Memorial Nursing Home in Viborg, SD until her death on September 30, 2021 at the age of 90 years.
            She was a member of Lands Lutheran Church, where she was a very active for many years.  Delores will be remembered for her love of family, gardening, cooking huge meals for numerous occasions and arguably being the best lefse maker in SD!   She also made many other Norwegian delicacies.
            She was a member of the BCNU (Be Seein' You) Extension Club.  Delores was loved by everyone she touched for her many kindnesses.    Everyone on her long Christmas mailing list received a card and hand-written letter at Christmas and likely a birthday card, anniversary card or other special occasion card, again with a hand-written note.
            She was preceded in death by her parents, her loving husband of 64 years, Mahlon; her son Kurt; her granddaughter Ashley; her brother Kenneth Roti and wife Lois Roti; her sister in-law Eunice and husband Paul Twedt; and her brother-in-law Dwight Bergquist.
            Delores is survived by her three sons, Gary (Janyce) Johnson of Canton, SD; Timothy (Carolina) Johnson of Torrance, CA; and Wayne Johnson of Edina, MN; grandchildren, Rosa (Travis) Nordstrom and great grandchildren Isaac, Elijah, Luke and Ashlyn;   Sarah (Kristopher) Shrewsberry; and Laura (Edwin) Frerichs and great grandchildren Theo and Isabella.  She is also survived by her sister Shirley (Donald) Horner; her brother Raymond (Kyle) Roti; her sister in-law Ardis Bergquist as well as many nieces, nephews, extended relatives and friends.
            Funeral services will begin at 10:30 a.m. Tuesday, October 5th at Lands Lutheran Church, rural Hudson, SD.  Visitation will be Monday October 4th from 2-7 p.m., family present from 5-7 p.m., at Anderson Funeral Home in Canton.   www.andersonandsonsfh.com