Visitation: Visitation will be 4:00-9:00pm Wednesday, September 4, 2013 at Anderson-Jones-Corcoran Harrisburg Funeral Chapel with family present from 6:00-8:00pm.
Service: A memorial service will be held 10:00am Thursday, September 5, 2013 at Shalom Lutheran Church, Harrisburg, SD.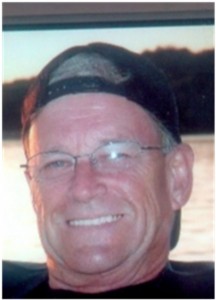 Darrel Ray Holm, 67, passed away September 2, 2013 at Dougherty Hospice House surrounded by his loving family, after a courageous nine month battle against cancer.
Darrel Ray son of Merlyn and Gladys (Stuen) Holm was born August 25, 1946 in Viborg, SD. The family moved to a farm North of Lake Alvin, Harrisburg SD at the age of 3. Darrel was baptized at Meldow Lutheran church in Viborg, SD and confirmed at Springdale Lutheran Church, rural Harrisburg, SD.  He attended Muller grade School 1st through the 8th grade and then attended Harrisburg High School graduating in 1964.
Darrel was involved with the Army Reserve from November 1965 to December of 1966.  He then enlisted in the U. S. Navy in December 1966.  He served in Vietnam on a fighter Ship USS Kawishewi.  He was honorably discharged on November of 1971. He was united in marriage with Beckey Allen on December 6th 1975 in Harrisburg, SD.
Darrel worked for Sutherland Lumber, Friessen Construction, Bob Colwill Construction where he laid water pipe for Lincoln County Rural Water in northern Lincoln County. He drove semi for Farmland Industries for several years and then owned and operated DH Transportation in 1992 leasing his semi to Fairbualt Foods.
He was a past member of the Harrisburg Volunteer Fire Department, Harrisburg Booster Club, Community Club and played on the Harrisburg softball team.  Darrel participated in South Dakota Truck Rodeo's and placed 1st numerous times and the state competition and 3rd at the national competition.
Survivors include his wife, Beckey, Harrisburg, SD; daughters, Amanda (Chad) Allison, Harrisburg, SD, Ashley (Jay) Hortness, Canton, SD;  two grandchildren, Emma Rae ,and  Mataya Rae ; father, Merlyn Holm, Sioux Falls, SD; sister, Linda Slack, Harrisburg, SD; brother, Jon Holm, Caledonia, CA; and a host of other relatives and friends.