Visitation: Tuesday, 5-7 PM Anderson Funeral Home
Service: Memorial Service- 7 PM Tuesday, April 8, Anderson Funeral Home, Canton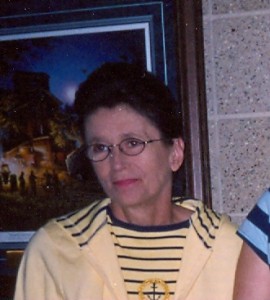 Canton.  Darla Ovre, 66, passed away Friday, April 4, 2014 at Palisade Manor in Garretson, SD.  A family visitation will be from 5:00 to 7:00 p.m. Tuesday, April 8, at Anderson Funeral Home in Canton.  Her memorial service will begin at 7:00 p.m. at the funeral home. 
Darla was born April 25, 1947 at Park Rapids, MN to Clarence and Leone (Stephenson) Nussbaum.  She attended school in Lennox and Canton.  Darla married Johnnie Ovre, Jr. in 1963.  They made their home in the Canton area.  She worked as a bartender at the Canton Municipal, Crow Bar in Sioux Falls, the Lennox Legion, and Scotty's Bar in Worthing.  Her favorite pastime was camping and fishing.  She was an avid collector and enjoyed going to auctions.  Her pets were her babies.
Darla is survived by her son, Douglas (Deb) Ovre of Worthing; daughters, Jeanne (Paul) Oakland of Canton and Jennifer (Scott) Lee of Sioux Falls; 9 grandchildren- Cody, Austin, Tanner, Patrick, Daphne, Jake, Hailey, Ross, and Kaden; 7 great-grandchildren- Hunter, Maddie, Erika, Alyssa, Daython, Jayvon, and Sean; 2 brothers, Stan Mclung and Keith (Mary) McClung, both of Harrisburg; and special friend, Bill Moen of Canton and his children- Joe Moen, Glenn Moen, Sherry Moen, and Alicia Gerald.  She was preceded in death by her parents, 2 sisters, Vivian Schriver and Dorothy Wright, and 2 brothers, Harvey and Robert.