Visitation: Visitation will be Wednesday from 2-7 p.m., with family present from 5-7 p.m. at Anderson Funeral Home.
Service: His memorial service will start at 10:00 a.m. Thursday, June 20 at Canton Lutheran Church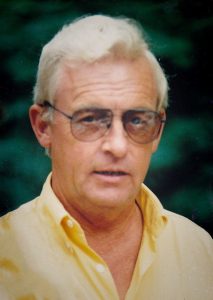 Curtiss L. Nelson, age 80, died Friday, June 14, 2019 at Bethesda of Beresford surrounded by his family.  His memorial service will start at 10:00 a.m. Thursday, June 20 at Canton Lutheran Church.  Visitation will be Wednesday from 2-7 p.m., with family present from 5-7 p.m. at Anderson Funeral Home.
    Curtiss Nelson was born to Carl and Hulda Nelson on September 19, 1938, in Little Falls, Minnesota. He was the youngest of 5 children and the apple of everyone's eye. His life started on a small dairy farm near Freedhem, Minnesota. Growing up there, Curt worked the farm and enjoyed the beautiful woods and lakes of Minnesota. After graduation from high school, he enlisted in the Marine Corp. This affiliation instilled a work ethic and a Patriotism that became part of his life from that point on. Following his time in the Marines, Curtiss returned home to the farm and fell in love with Diana Stoner. Diana became his wife and partner for 60 years. They made a home on the family farm and the plan was to be dairy farmers. Their first child, Jeff, became part of that home.
     A farm accident 3 years into this life changed the course of this family forever. Curt was left with a physical impairment that made it impossible to work the farm. The family faced a long period of recovery that involved many surgeries and a switch from farming to a career of sales. All who know Curt, know that he was born to be a salesman. During this period, Curt and Diana's second child, Todd, was born.
     The family moved to the Fargo-Moorhead area where Curtiss took a job with the John Deere dealership there. This was a period of growth and multiple houses that Curt and Di purchased, renovated and flipped for a profit. Now the girls, Jill and Julie, were born making a family of six. The final home there was on the banks of the Red River. Curt and the boys hauled rock after rock to terrace the bank. Curt was famous for hauling rocks and creating landscapes. And family members can attest to being part of these projects, often not so willingly. There are so many memories of family vacations, trips back to the farm and the addition of a lake cabin near Detroit Lakes, Minnesota. Life was good.
     This process of flipping houses and making money allowed Curt and Diana to buy a John Deere Dealership in Elk Point, South Dakota. The family moved south. Business was good and Elk Point became home. All four of the kids graduated from Elk Point High School. The cabin was gone, but the love of camping and water continued. There was usually a boat and camper, and many trips most often to Lewis and Clark Lake. The business grew and was a mainstay of the community. There were many years of seeing Nelson Implement's presence at county fairs, parades and farm shows. Curt and Diana hosted many company events and included their employees on campouts and dinners. The employees of Nelson Implement became dear friends to the Nelson family.
     While in Elk Point, a love of trees and civic mindedness caused him to plant thousands of the little critters. They are now big trees and can be found from one end of town to the other. He was instrumental in bringing the clinic to Elk Point. And many people now enjoy the trees and the fishing in Heritage Park. They have Curt Nelson to thank. In the middle of this, the family moved to another new "OLD" house in Elk Point. This house is now on the historical record and is now a museum in Elk Point.
     The mid 1980's brought the farm crisis. It became increasingly difficult to do business in this very harsh environment. Farmers were going out of business all over the country. Curt and Diana made a valiant attempt to keep going but finally made the decision to close the dealership and again life changed. The kids were all on their own now. Curtiss and Diana started a new chapter with John Deere in Madison, South Dakota with his nephew, Mark.
     Curt and Diana began the next chapter of life on Lake Madison, once again close to the water. Grandkids start to become part of the scene. The entire family has many great memories from this time at the lake. And Curt's gardens become legendary. The family had a major scare during this time when Diana was diagnosed with cancer. Curt was a huge support to Diana, along with the rest of the family. The family's prayers were answered when, after receiving treatment, Diana was pronounced cancer free and has been ever since.
     Healthcare started to become more and more important, so Curt and Diana made a big move back to Sioux Falls- close to doctors and family. This home was the hub of family gatherings for several years. Even though Curt no longer sold farm equipment, he continued to check out garage sales and "Willy's" (Goodwill) where he and Diana found many treasures to restore and resell at antique booths throughout the area.
     There have been many highs and lows in this story. There have been many times when Curtiss could have given up. He never did. His comebacks are legendary. In fact, his children have a list of the times he escaped death. However, he finally left this world on June 14th, 2019. We really can't believe that he left- we thought he would stay forever. Lots of houses, lots of memories and lots of love. Curt will remain forever in our hearts. He was one of a kind.
     Curtiss is survived by two sisters, Jean Davidson of St. Louis, Missouri and Lois Seufert of Van Nuys, California, He is survived by his wife Diana, Beresford, SD; his sons Jeff (Dori) Nelson, Sioux Falls, SD and Todd (Brenda) Henze-Nelson, Fairbanks, Alaska; his daughters Jill (Kelly) Peltier, Canton, SD and Julie Nelson, Minneapolis, Minnesota. Curt is also survived by grandchildren Paden (Emma) Henze-Nelson, Jaret Henze-Nelson, Ian (Jordana) Nelson, Jesse Nelson, Max Peltier, and Katherine Peltier and 2 great-grandchildren, Raelynn Mae Nelson and Ren Ellis Nelson. Curt was preceded in death by his parents, his brother Richard Nelson and his sister Vivian Davidson.