Visitation: Visitation will be Monday from 2-7 p.m., family present from 5-7 p.m., at Anderson Funeral Home in Canton, SD.
Service: Funeral services will begin at 10:30 a.m. Tuesday, July 19, 2022 at Canton United Methodist Church, Canton, SD. 
Livestream: Click here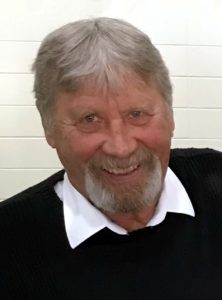 Craig Van Bockern passed away peacefully July 14, 2022, in Canton, South Dakota at the age of 75.
    Craig Earl Van Bockern, son of Earl and Ellen (Carlson) Van Bockern, was born September 19, 1946 in Canton, SD. He graduated from Canton High School in 1964, where he excelled in football, going undefeated his senior year.  His was thrilled to be a part of the 1964 alumni class that purchased an electronic scoreboard for the football field.  Craig also attended and studied history at General Beadle State College in Madison, SD. He maintained lifelong friendships with classmates, hosting and attending coffee club with them until the time of his passing.
       Craig was united in marriage to Linda Ness on June 25, 1966 in Canton, SD where they remained to raise two children, Shane and Jill. Although attending college with the intention of becoming a teacher, Craig and Linda seized the opportunity to be business owners and purchased Van's Rubbish Removal in 1967 from Craig's uncle Martin Skaien. They continued to grow the garbage hauling business and became part owners of Macs. Craig was an extremely hard worker, eventually retiring in 2010.
      Craig enjoyed hunting, fishing, and camping and loved sharing adventures with his wife, children, and grandchildren. He was a strong, compassionate, funny family man. He had the ability to make them laugh without any effort. He loved watching his children and grandchildren compete in sports. Off the court, track, or golf course, he could be counted on for advice, support, and love.
      Craig was proud of his community and served on the Canton Volunteer Fire Department and Planning and Zoning Commission. Craig was a member and past president of the Canton School Board where he strongly advocated for a new football stadium and track. In his free time, he played on the United Methodist Men's Softball Team, men's and couples' bowling leagues, and Ducks Unlimited.
      Grateful for having shared his life are his wife of 56 years Linda, Canton, SD; son Shane Van Bockern and his wife Nikki, Lake Preston, SD; daughter Jill Johnson, Sioux Falls, SD; grandchildren Cole Van Bockern, Kimberly Schriever and her husband Bailey, and Kelsey Johnson; sister Deb Freeman and her husband Scott; brother Trent Van Bockern and his wife Mary; many, many nieces, nephews, relatives, and friends.
      Craig is preceded in death by his parents Earl and Ellen Van Bockern, mother-in-law Dolores (Menholt) Ness Larson, father-in-law Alvin Larson, son-in-law Chad Johnson, grandparents, and other cherished family members.
      Funeral services will begin at 10:30 a.m. Tuesday, July 19, 2022 at Canton United Methodist Church, Canton, SD.  Visitation will be Monday from 2-7 p.m., family present from 5-7 p.m., at Anderson Funeral Home in Canton, SD.  www.andersonandsonsfh.com