Visitation: Visitation will be Monday from 4- 8 p.m., family present from 6-8 p.m., at Anderson Funeral Home in Canton. A prayer service will begin at 7 p.m.
Service: Funeral services will begin at 11:00 a.m. Tuesday, February 12, 2019 at Canton Lutheran Church. Private family burial will take place prior to the service.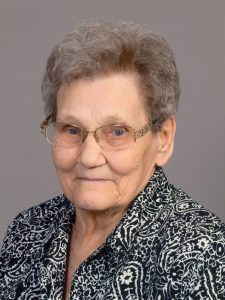 Clazena "Chuck" (Mediema) Sorum of Canton was called home to our Lord on Thursday, February 7, 2019 at the age of 85.  She was born July 23, 1933 to Dick and Anna (Reinalda) Miedema on a farm near Rock Valley, Iowa. "Chuckie" to all who knew her, was a caring and hardworking individual who touched many lives.  She married Robert H. Sorum in 1956 and raised their 5 children on the family farm just south of Canton.  Clazena worked at the Rock Valley Bakery and Fairview Grocery Store before she was married and later spent 18 years working at the Canton Good Samaritan Center in Canton.  She enjoyed taking trips and spending time with family, friends and especially her grandchildren.  Clazena received the Jefferson Award for public service and volunteerism. The Jefferson award is given at local levels to ordinary people who do extraordinary things without expectation of recognition.
She was preceded in death by her parents, an infant child, her husband Robert and her son Asaf Sorum.  Her brothers Pete, George, Raymond, Clarence and her sister Anna Miedema also preceded her in death.  She is survived by her sons Roger (Karen) Bastrop, TX, Clifford (Janet) Canton, SD, Jeffrey (Jolynn) Hudson, SD, her daughter Roxanne Wolfe Lubbock, TX, 5 grandchildren, Nathan (Caylee) Sorum, Olivia Liesinger, Clayton Sorum, Elliott Hardy, Preston Wolfe, 2 great grandchildren Griffin Sorum and Aspen Liesinger, her sister Winnie Fredrickson Alcester, SD and special friends.
Visitation will be at Anderson Funeral Home in Canton from 4 p.m. – 8 pm on Monday.   Family will be present from 6 p.m.-8 p.m.  The funeral will begin at 11:00 a.m. on Tuesday, February 12, 2019 at the Canton Lutheran Church.   A private burial will be held prior to the funeral.