Visitation: Visitation will be Tuesday from 5-7 p.m. at West Prairie Lutheran Church (46788 282nd St, Lennox, SD 57039)
Service: Memorial services will begin at 10:00 a.m. Wednesday, July 14 at West Prairie Lutheran Church,(46788 282nd St, Lennox, SD 57039)
Livestream: Click here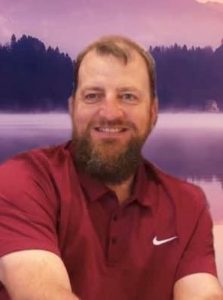 Christopher M. Kayl, age 49, died Thursday, July 8, 2021 due to an accident near Clark, SD.  Memorial services will begin at 10:00 a.m. Wednesday, July 14 at West Prairie Lutheran Church, rural Lennox, SD. Visitation will be Tuesday from 5-7 p.m. at the church.
          Christopher was born on December 29, 1971 in Mitchell, SD to Michael and Brenda (Geidel) Kayl.  Chris graduated from Armour High School in 1990.  He then attended Southeast Tech, earning a degree in Computer Information.  He earned a Bachelor's degree from DSU in 2011.  He married Teri Aasheim on November 26, 1994 at Lands Lutheran Church.  Brittany, Nicholas, and Amanda were born to this union.  Chris has worked for the City of Sioux Falls IT Department for over 20 years.
          Chris loved his family, the outdoors and bowling with his buddies. When he was not fishing, hunting, camping or working on computers, he could be found at his children's/sibling's events.  Always willing to lend a hand, he helped on many community and church projects.  He will be remembered for his smile, big hugs, positive attitude and for singing, especially to the Statler Brothers Christmas cd.
          Chris is survived by his wife of 26 years, Teri; his children, Brittany, Nicholas, and Amanda Kayl; mother, Brenda Drefs; step-father, Mike Drefs; brothers, Matthew (Katherine) Drefs and Jonathan (Brooke) Drefs; sisters, Lori (Corey) Cowins and Victoria (Jacquelyn) Drefs; in-laws, Lynn (Martha) Aasheim; sister-in-law, Kristi (Ed) Carpenter; grandmothers, Helen Geidel and Jean Kayl; along with numerous nieces, nephews, extended family and friends.  He was preceded in death by his dad, Michael Kayl and his grandfathers. www.andersonandsonsfh.com