Visitation: One Hour Prior to the service
Service: 10:00 a.m. Wednesday, Sept. 21, 2011 Canton Lutheran Church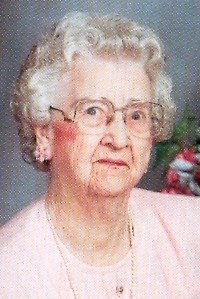 Christine E. McVay, age 89, passed away Saturday, September 17, 2011 at Canton Good Samaritan Center.  Funeral services will be at 10:00 a.m. Wednesday, Sept. 21, at Canton Lutheran Church, with burial at the Lutheran Cemetery north of Canton.  Visitation will be an hour prior to the funeral service.
Christine was born August 30, 1922 on a farm near Canton, SD, to Emil and Alma (Ostmoe) Larson.  She attended Brown Country School.  She married Wesley B. McVay August 14, 1949 at Canton United Methodist Church.  Her husband died in 1978.
Christine worked in food services at Canton Public Schools for 20 years, retiring in 1989.  She was a member of Canton Lutheran Church and WELCA, Canton Senior Citizen's Center, RSVP, Sons of Norway, and VFW Auxiliary.  She also volunteered at Canton Good Samaritan Center and Meals on Wheels.  Christine enjoyed jig-saw puzzles, reading, embroidery and crafts.
Christine is survived by her sister, Ivy Silvis, of Spearfish, SD, 2 sisters-in-law- Dolores Larson, Canton, SD and LeeAnne Narum, Canton, SD; and several nieces and nephews.  She is preceded in death by her parents, husband, brothers- Elmer and Alvin, and an infant sister.