Visitation: Visitation will be held on Saturday from 10 to 11 a.m. at Heritage Funeral Home. The family requests masks be worn during the service.
Service: A Celebration of Life Service will begin at 11:00 a.m. Saturday, October 16 at Heritage Funeral Home in Sioux Falls, SD. The family requests masks be worn during the service.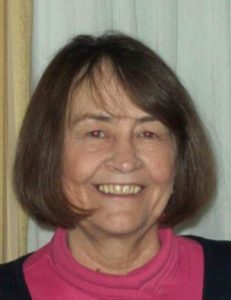 Carolynne Linda Pederson was born in Sioux Falls, South Dakota to Cliff and Verginia Stoltenberg on February 4, 1949, and passed away peacefully surrounded by her family at Dougherty Hospice House on Saturday, October 9, 2021.  She attended Sioux Falls schools, including Augustana College.  She obtained an Associate's Degree in Business from Southeastern Community College in Hawarden, Iowa.
            Carolynne worked in several different capacities and fields during her career, but her longest tenure was as a purchasing agent at Malloy Electric from 1978 to 1995.  But her life was not limited to her career, and she played as hard as she worked.  She had many hobbies and passions throughout her life.  Among them, was as a yoga teacher and practitioner.  She was a voracious reader and calligrapher.  She competed in dart leagues, pool leagues, bowling leagues, volleyball leagues, golf leagues and she played on a women's soccer team.  She loved cards, cribbage, and scrabble with anyone that would indulge her.  Carolynne could often be found on damp, chilly Spring days driving down gravel roads in the country scouring ditches hunting for wild asparagus with friends and family.  She loved being outdoors, especially at Lake Traverse.  She was an incredible gardener and nurturer of all living things.  One of her greatest passions was spending time with her friends and family, during which she might have the occasional adult beverage.
            Carolynne prioritized giving back to the community.  Even up until the end, she volunteered her time in multiple ways, including at the humane society, the Banquet, teaching adult literacy, cub scout den mother and spending time with residents of nursing homes among others.  She was also active in volunteering for political campaigns her entire life.
            Carolynne started her working life at Knox-Reeves advertising from 1969 to 1971 and then joined the United States Airforce.  She was extremely proud of her service as an Air Traffic Controller from 1971 to 1975, including being stationed at Strategic Air Command in Omaha.  Carolynne worked for Northwestern Bell in Sioux Falls in two different stints, from 1967 to 1969 and again from 1975 until 1978.  She then worked as a purchasing agent from 1978 until 2000 at various companies including Malloy Electric, Luverne Fire Apparatus, and Campbell's Supply.  She was active in the National Association of Purchasing Agents and served as President for several years.  From 2000 until 2007 she worked at Cigna Teldrug in Sioux Falls.  Most recently, she was a research collector with Research Triangle Institute from 2007 until 2016.  During her working career, she maintained several additional jobs at Dial-Net, Walmart, and as a server at Pete's and the Sheraton.
            Carolynne is dearly missed by her family and friends.  Happy to have shared in her life, Carolynne is survived by two children Kristi Sullivan from Las Vegas, NV along with grandson Brodderek (Jennifer Morales) and four great grandchildren; Erik Pederson (Shannon) from Arlington, VA along with their son Henrik; stepsister Billie Martini (Ralph) from Phoenix, AZ; stepbrother Bob Hegge (Judy) from Sioux Falls, SD; stepsister Tammy Nielsen (Bill) from Phoenix, AZ; aunt Marles Berthelsen from Woodlake, MN; uncle Larry Bolte from Elkton, SD; aunt Gloria Petersen (Larry Pitts) from Woodlake, MN; aunt Darla Wilaby (Loren) from Hot Springs, SD; and numerous cousins.  She is preceded in death by her Father Clifford Stoltenberg and Mother Verginia Thompson.
            A Celebration of Life Service will begin at 11:00 a.m. on Saturday, October 16 at Heritage Funeral Home in Sioux Falls, SD.  Visitation will be held on Saturday from 10:00 a.m. to 11:00 a.m. at the funeral home. The family requests memorials be directed to the Banquet (www.thebanquetsf.org)