Visitation: Family will greet visitors one hour prior to the service.
Service: A Celebration of Carol's Life will be held at 2:00 p.m. Monday, June 19, 2023 at the River of Life Church, 120 S Main Canton, SD.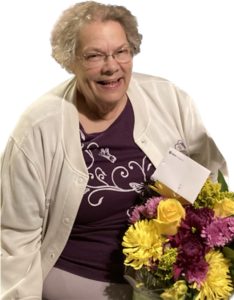 Carol Lotus Simon Jones Olmstead, age 83, died Saturday afternoon, June 10, 2023, after suffering a suspected heart attack while driving to her class reunion in Allen, NE.  A Celebration of Carol's Life will be held at 2:00 p.m. Monday, June 19, 2023, at the River of Life Church, 120 S Main Canton, SD.  Family will greet visitors one hour prior to the service.   www.andersonandsonsfh.com
          Carol was born on May 5, 1940, in York, Nebraska to Maynard Blaine and Grace Elisabeth (Savell) Simon.  She grew up in Allen, Nebraska and graduated from Allen Consolidated High School in 1958.  She later obtained a Master of Science of Management from Augustana University in South Dakota. Carol worked as an RN for many years in different nursing positions in South Dakota, Wyoming, and Nebraska as well as a traveling nurse for a while. She even established and managed Our Home Healthcare with husband Wally in the state of Wyoming. She used her skills in nursing throughout many jobs up until she moved to Canton, SD in 2012. She also had a CDL Class A driver's license, and team-drove semi-trucks with her husband Wally for several years and continued driving on occasions later in life as a pilot driver.
          Carol loved traveling and meeting new people, she couldn't go to a new place without making new acquaintances. She spent as much time as possible on the road and visited all 48 lower states and visited Alaska by plane and cruise ship. She was a world traveler, having traveled to far away countries like India, as well as taken several cruises.
          Carol married Biff Jones in 1959, and during their 15 years of marriage was blessed with four children: Leland, Laurel, Blaine, and Violet.  While married, the couple lived primarily in the Nebraska and South Dakota area. Carol spent her life calling either South Dakota, Wyoming, or Nebraska her home. Carol married Wallace Olmstead on December 12, 1980, and spent over 30 years of marriage between South Dakota and Wyoming.
          There were many things that made Carol happy; spending time with her grandchildren and great-grandchildren was the top of her list. She would go on trips with them when possible, or even just spend time playing games and talking. She often bragged about how blessed she was with having so many grandbabies.
          Carol made many friends in her life. She didn't make temporary friends; once you were her friend, you were her friend for life. She never forgot her friends. She called them and made plans with friends as much as possible. She went out with friends from high school and college almost monthly. She loved going to plays, symphonies and anything pertaining to the Arts.
          Carol's move to Canton expanded her daily life, and she loved every moment of it. Carol LOVED to read and was a regular at the library and took part in book groups. She would often be seen on her 3-wheeled bicycle riding to the Canton Senior Center when weather permitted. She was a wonderful piano player and always encouraged her grandchildren and great-grandchildren to find a musical instrument they enjoyed. Carol knew how to knit, often making gifts for family and friends. Carol loved to participate at her church, enjoying the two bible studies she attended. And of course, she loved her games – her favorites being pinochle and Rummikub. Her most enjoyable pastime was spending time with her family, in person or on the phone. She loved her community and was an active member of the Sons of Norway, the Canton Senior Center, and River of Life Church. Carol will be remembered for loving her family deeply and her straight-forward, no sugar-coated feedback. Carol was a vibrant and social butterfly that not only drew everyone to her but made sure you shined with her. Carol's presence will be greatly missed.
          Carol is survived by her children: Laurel (James) Peterson, Blaine (Sheri) Jones, and Violet (Jason), Grandchildren: Natasha Burns, Theodore Jones, Tanner Jones, Ashley Carr, Jeremiah Peterson, Jesse Peterson, Hope, Auston, and Eythan, Great-grandchildren: Faith Burns, Noah Burns, Emma Carr, Dakota Peterson, Makenzie Carr, and Waylon Jones.  She was preceded in death by her parents, Father in 1988 and Mother in 2003; husband Wallace in 2013; ex-husband Biff in 2023; sister, Vicki Danforth in 2012 and son, Leland in 1959.