Visitation: Visitation will be Sunday, Jan 4, from 2 to 5:00 p.m. at Anderson Funeral Home, Canton, with family present from 3 to 5:00 p.m. A prayer service will begin at 4:00 p.m.
Service: Funeral services will be at 11:00 a.m. Monday, Jan 5, 2015 at Grand Valley Lutheran Church south of Canton.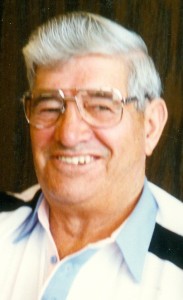 Carl Andrew Hammer, 90, passed away Thursday, January 2, 2015 at the Canton Good Samaritan Society.
   Carl was born February 22, 1924 to Oluf and Ingrid (Rognan) Hammer in Volga, SD   The family moved to Lincoln  in 1931 where he was a lifelong resident.  He graduated from Canton High School in 1942.  He was drafted by the US Army in 1943 and served until March of 1946. 
    Carl was united in marriage to Fern Lorraine Butcher on December 27, 1944.  Following military service they farmed in the Canton area until retirement in 1986.  After retirement they enjoyed winters in Arizona and summers in South Dakota. 
    He was a member of the Grand Valley Lutheran Church and served on various boards and committees.  He was a member of the VFW Post #3164.
   Carl was preceded in death by his parents Oluf and Ingrid, brothers and sisters.  He is survived by his wife Fern, children Stephen (Barb), Patricia, Marcia, Charles (Lorie), several grandchildren and great grandchildren.