Visitation: Visitation, with family present, will be Tuesday from 5-7 p.m. at Anderson Funeral Home, Canton, SD.
Service: A Celebration of Bud's Life will begin at 10:30 a.m., Wednesday, January 15 at Canton Lutheran Church. Private family burial will take place prior to the service.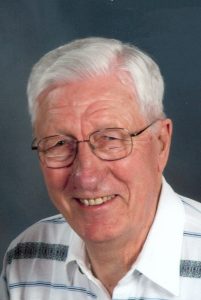 Boyd "Bud" C.  Steensland, 94, of Canton, SD, died Thursday, January 9, 2020, at Good Samaritan Center, Canton, SD.
Visitation with family present will be held, Tuesday, January 14, 2020, from 5:00pm to 7:00pm at Anderson Funeral Home in Canton.  A Celebration of Life service will be held on Wednesday, January 15, 2020, at 10:30am, at Canton Lutheran Church, Canton SD.  Prior to the service, a private family burial will take place at Grand Valley Lutheran Cemetery.
                Boyd Creighton Steensland was born August 28, 1925, in Canton, SD, to James Orange Nobel Steensland and Norma M. (Anderson) Steensland.  He graduated from Canton High School in 1943.  Boyd attended South Dakota State University where he earned a bachelors' degree in Animal Husbandry.
                Boyd was united in marriage to Lorraine Carolyn Johnson, of Madison, SD on July 16, 1950 at Trinity Lutheran Church, Madison, SD.  They were married for 58 years.
                Bud's professional career included working thirty-three years in the automotive business in Canton, SD.  He enjoyed serving the needs of his customers and friends as the proud owner of Steensland Buick Company.  He is grateful to his employees over those many years, especially his mechanic Don Markle.
                Upon his retirement, Bud participated in many volunteer activities in service to his church and community.  Bud and his wife, Lorraine, received the 1995 Canton Citizen of the Year award for their many volunteer efforts, including spearheading the growth of the Canton Food Pantry.
                Bud and his wife enjoyed spending their summers at Lake Pickerel, near Fergus Falls, MN.  He was a member of the Canton Rotary Club, receiving in 2012 a Lifetime Honorary Rotary Membership in the local club.  He also served on the Advisory Board of Canton Good Samaritan Center.  In addition, Bud served on many boards of Canton Lutheran Church.
                Grateful for having shared his life are sons: Craig, (Julie Johns) Nixa, MO, and David (DeAnn), Mazeppa, MN; son-in-law: Fred Webb, Canton, SD; eight granddaughters: Melissa, Krista, Kristin, Rebekka, Carolyn, Susan, Kammie and Melissa; and many great grandchildren, nieces and nephews.
                Boyd "Bud" was preceded in death by his parents; wife: Lorraine (Canton, SD); daughter: Rev. Ann Webb (Canton, SD); daughter-in-law: Mary (Whitcomb) Steensland (Nixa, MO); sister: Jean Rasmussen (Sioux Falls, SD); and brother: Jim Steensland (Canton SD).
                In lieu of flowers, contributions can be made to Lake Shetek Bible Camp Lutheran Ministries, 14 Keeley Island, Slayton, MN 56172 or Building Capital Campaign, Canton Lutheran Church, 124 E. Second, Canton, SD 57013.