Visitation: Visitation with family present will be Friday from 6:00 to 8:00 p.m. at Anderson Funeral Home in Canton
Service: Services will be at 10:00 a.m. Saturday, June 11, at Grand Valley Lutheran Church, south of Canton
Robert Clayton 'Bob' Brynjulson, 87, passed away Monday, June 6, 2016 at Avera Dougherty Hospice in Sioux Falls.  His funeral service will be at 10:00am on Saturday, June 11th at Grand Valley Lutheran Church south of Canton.  Visitation will be from 6:00 – 8:00pm on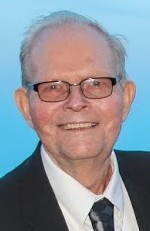 Friday, June 10th at Anderson Funeral Home in Canton.
Bob was born July 7, 1928 to Albert and Effie (Narum) Brynjulson on the family homestead south of Canton.  He attended grade school at Riverside Rural School and graduated from Canton High School in 1946.  Bob farmed with his father until being drafted in 1951.  He served in the Army from 1951 to 1953 during the Korean War, and after his discharge returned home to continue farming.  Bob married Carol Dorsman on October 14, 1956 in Sioux Falls.  They farmed together their entire married life on a "Century" farm, which has been in the Brynjulson family since 1876.  They raised corn, soybeans, cattle, hogs and two children.
Bob met Carol at the Arkota Ballroom in Sioux Falls, and they continued to dance regularly for the next sixty years.  They were avid travelers, visiting all fifty states and 27 foreign countries.  Bob enjoyed frequent camping and fishing trips with family and friends.  He was an active lifelong member of Grand Valley Lutheran Church, and served as trustee, treasurer, and deacon.  He was a member of VFW, Moose Lodge, and Farmers Union.
Grateful for having shared his life are:  his loving wife of 59 years, Carol; son, Curt (Brenda), Sioux Falls; daughter, Peggy (Charlie) Groen, Beresford; five grandchildren – Chad Groen, Spearfish, Chris (Sarah) MacDonald, Jennifer (Aric) Oslund, Andrew (Sony) Brynjulson, and Austin (Molly) Brynjulson, all of Sioux Falls; eleven great-grandchildren; sisters, Verna (Julian) Holter, Canton, and Doris Towne, Harlan, IA; and sister-in-law, Dorothy Brynjulson, Sioux Falls.  He was preceded in death by his parents; brother, Harlan; and brother-in-law Willis Towne.