Visitation: Visitation, with family present, will be Thursday from 5-7 p.m. at Redeemer Free Lutheran Church.  
Service: Funeral services will begin at 2:00 p.m. Friday, April 14, 2023 at Redeemer Free Lutheran Church in Canton, SD. 
Livestream: Click here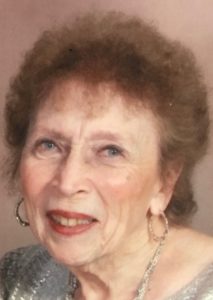 Beverly Jean (Brurud) Frislie, passed away peacefully surrounded by loved ones Saturday, April 8, 2023, at Can-ton Inwood Hospital. She was a good woman, who knew she needed a Saviour. Bev was born on a farm near Hudson, SD, October 28, 1930, to Oscar and Hazel (Johnson) Brurud, the youngest of three children. Her father built a garage intending to build a house next, but the depression hit, and the garage became the family's tiny home. Their blind grandmother lived with them, as well. Their circumstances and suffering created a life long bond of love between them!
                Bev attended country school, occasionally riding her pony, Bobby. She continued her education at Canton HS, boarding with other farm girls. Following high school she married the man she believed God brought to her, John Frislie, April 22, 1949. 11 months later their first child was born followed by 5 more children, ending with Sonja, the greatest gift we all could have received.
                Bev was a compassionate woman who loved people, especially those in need. In the 50s, she fed hobos lunch on the back porch steps, years later she and Gus got involved in prison ministry, inviting several to stay in their home. Their house was like a free B&B, welcoming relatives from around the country, a pastor from India, and several temporarily without a home. She often visited the sick, always with a flower in hand.         A natural born sales lady…she worked at her mothers-in-law's Canton Apparel Store, and later before it was vogue she opened a consign-ment store, and then went on to sell 5th Ave Jewelry. She loved garage sales; both having her infamous annual sale as well as going to them. She was very involved with her church: she was a special needs Sunday School teacher, helping to oversee the annual Potato Bake and Wedding Dress Style Show, plus was part of the women's group. She was also involved in VFW, Boy Scout Leader, Sons of Norway and a Welcome Wagon Lady. She enjoyed organizing get togethers, class reunions and especially family holiday gatherings, which always included lots of food, including her fresh caramel rolls…she rarely slept, yet never seemed exhausted. She loved it.
                Do you know anyone else that had a 30 cup coffee pot on their countertop – with a 12 cup back up behind it? She did! She always had the coffee on for anyone stopping by. When she invited you over, it was from the heart… and people knew it! Once you shared a cup of coffee you were a friend forever. She became your sec-ond mom, aunt or grandma!
                She was the original 'kool-aid' mom…kids were literally crawling all over the Frislie yard/'park', which also made it impossible for grass to grow. The neighborhood was filled with wonderful 'at home' moms who helped watch each other's kids, while the mothers bonded over gallons of coffee. Summers usually meant a trip to the lake in Minnesota, a highlight for the parents, kids and cousins—creating lifelong memories.
                Gus (aka John) and Bev lived a simple and loving life together – surviving within their means, never a new car, but one that ran and was paid for, yummy meals and lots of love sprinkled with some firm discipline. When Gus came home from work, he was greeted with a smile and a kiss, her lipstick was fresh, hair combed and she was always (yes…ALWAYS) dressed fashionably. She was a devoted wife through the good and the hard times. The two of them suffered so well and graciously.
                Bev was preceded in death by her husband of 73 years and 2 days, John, parents, infant sister, Gloria Jean Brurud, sister, Merlyn Gabrielson; sons, Steve and Larry; great grandchildren, Sophia Rydell and Lee Wirth. She is survived by her children; Vicki (Bruce) Larson, Fargo, ND; Craig (Cheryl), Sisters, OR; Brian (Sue), Atlanta, GA; Sonja (Mick) Tyrrell, Canton, SD; daughter in law Paulette Frislie, Canton. Grandchildren; Karin (Jamie) Wirth, Anne (Mike) Rydell, Sara (Brian) Halverson; Heidi (Gary, deceased) Ericson, Hope (Jason) Bryant, Michael (Karolina) Slack; Chad (Brianna) Frislie, Jeremy (special friend, Asia Collett) Frislie, Jill (Pat) Pleas; Shannon (Kenny) Greaves, Corey (Joie) Frislie, Maggie Frislie; Josh (Melissa) Tyrrell. Great Grandchildren: Audrey, Lucy, Evie Rydell; Anna, James, John Halverson; Tatum, Rickie Wirth, Quinton Vonesh; Emery Ericson; Paislee, Ty Carlson, Benson Bryant ; Olivia, Lucas Slack; Jasper, Aksel, Bjorn Frislie; Mila, Sylvie, Nolan Pleas; ViChey, Otto Frislie; Hayden, McKenna Greaves; Tallen, Jase, Ellie Tyrrell.
Memorials can be given to Redeemer Free Lutheran Church, Canton; Union Gospel Mission, Sioux Falls or Canton Lutheran's Window Fund. A special thank you to the staff of Canton Inwood Hospital and Hiawatha Heights Assisted Living for all of the love and wonderful care that was given to our Mother.
Funeral services will begin at 2:00 p.m. Friday, April 14, 2023 at Redeemer Free Lutheran Church in Canton, SD.  Visitation, with family present, will be Thursday from 5-7 p.m. at Redeemer Free Lutheran Church.