Service: As per the family, she was cremated and private family services will be held.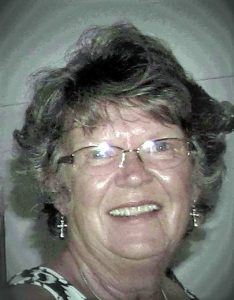 Barbara Ann (Servold) Jones, 72 years old, was received into her Heavenly home by her Lord and Savior, on October 16, 2020. She left her earthly life doing what she loved, which was working with the homeless in Bisbee, Arizona.
     She was born in Sioux Falls, SD on November 29, 1947, to deaf parents, Donald and Lorraine (Mayrose) Servold as the oldest of four children. Her passion for the deaf community was apparent all of her life as she became an interpreter first for her parents and then later on was employed with Deaf Services Commission of Iowa (DSCI) as an American Sign Language interpreter (ASL) with an RID certification. She was a strong advocate for all deaf individuals statewide. Her love was evident in that she specifically made it her mission to educate adults and children about their American Disabilities Act (ADA) rights within their communities.  She combined her love of camping and teaching by helping to establish the Junior Commission program for DSCI.
                Hobbies included fishing, baking (with butter), machine embroidering…there wasn't a craft she hadn't tried. She especially enjoyed spending time with her grandchildren making a variety of crafts. And many of these items were given away in love.
                She had a way of putting people at ease and making sure they knew they were included in activities and encouraging them to try new things. Barb will definitely leave a hole in so many people she has touched along the way.
                She is survived by her two sons, Donald Lee Servold and Bret Allen Austin, along with her grandchildren, Jaron and Jensen Servold, Saylor and Carly Austin, Gage Plueger and sisters, Nancy (Leroy) Feekes of Beloit, IA, Jeanne (Richard) Stonefield of Sioux Falls, SD and sister-in-law, Debbie (Rowse) Servold of Aurora, CO.
                As per the family, she was cremated and private family services will be held.
                Barb was preceded in death by both her parents and brother, David.