Visitation: Visitation will be from 2 to 8:00 p.m. Friday, Feb. 16, at Anderson Funeral Home in Canton. Family will greet visitors from 5 to 8:00 p.m.
Service: Her funeral service will be at 2:00 p.m. next week Saturday, Feb. 17, at Lands Lutheran Church, Hudson, SD.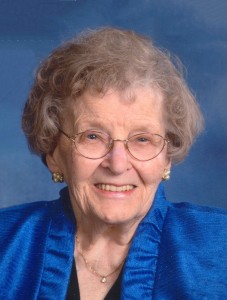 Avonelle Ulrickson Sogn died peacefully on February 7, 2018 at Bethesda of Beresford.  She was one week shy of 101 years, being born Valentine's Day 1917 to Sam and Vida (Alness) Ulrickson of Canton SD, who had described the day as a beautiful, sunny winter day.  She is survived by five children:  Anita (Dave) Kostboth Beresford SD, Trish (Marv) Tollefson Middletown MD, Howard (Linda) Sogn, Watertown SD, Naomi (Tom) Peterson Minnetonka MN, Paul (Kim) Sogn, Canton SD; also 17 grandchildren & 26 great-grandchildren + 1 due soon.
            Growing up, Avonelle had many relatives in the area.  She was one of six children, losing a brother, Lyle, when he was a small child. Followed by brothers, Kerwin & Homer, and sisters, Anona & Lois, she attended Jensvold and Highland Center, both one-room country schools, grades 1 – 8.  After high school at Augustana Academy, Avonelle graduated from Augustana College in 1938 with a Music major & minors in English and Sociology.
            Teaching was a perfect fit for Avonelle.  She started teaching English and Music in a small high school of almost 100 students in Rutland, SD.  When hired, there was no band, so band instruments (mostly used) were ordered and soon a 30 piece band of high school and junior high students practiced with her.  She fondly remembered an older retired gentleman, Peter Bach, from Chester, SD, who helped by coming up on the train once a week and spending all day in the gym giving the kids lessons on brasses, reeds and percussion. The community with no previous high school band was excited about the planned Christmas program showcasing their children.  After three years in Rutland, Avonelle taught one year in Volga, SD.  One of her memories in Volga was returning from church on Sunday morning, December 7, 1941, and hearing a radio announcement of the attack on Pearl Harbor.  Though her first teaching positions encompassed a short section of her life, Avonelle was pleased to receive letters and cards from former students for many years, and several even stopped by to see their former favorite teacher in Canton and in Beresford.
            Avonelle and Kenneth Sogn married on June 28, 1942 at Lands Church. Mom usually wore eyeglasses but Dad often did not.  However, on their wedding day she forgot to put on hers but Dad wore his glasses!  She remarked about that every time we looked at their wedding pictures. They grew up in the same rural area, going to grade school together and she loved telling about Kenneth once asking to walk her home from Jensvold grade school.  She lived two miles north of the school, but when they arrived at her house, Kenneth still had to walk two miles back to the school and another mile west to get to his own house, a total of 5 miles. The "walking home" only happened once!
            The five children in our family also attended Jensvold & Highland Center schools.  A favorite story about Mom (who had a reputation for driving a bit fast) concerns an afternoon she picked us up from Jensvold.  The only vehicle at home happened to be the farm truck, so she hopped into that to come and get us.  When Dad got back from town, she mentioned that he might want to check out the truck since it seemed a bit sluggish when she drove it.  He thought a minute, then with a twinkle in his eye said, "Did you know that it was full of grain?"   Her eyes opened wide, and of course, Dad loved to retell this story.  When we were in high school, Mom was always our own "English teacher" to call if we were unsure about grammar or the use/spelling of words in what we were writing.  Most likely a few changes would be made if she had proofread this document!
            Because music was a major part of her life, her musical talents continued to impact lives outside the classroom.  She taught piano lessons in her home to many neighborhood children, nieces and nephews, and played piano and organ at church where she also directed choirs and accompanied musical groups.  Her own children often had their lessons at the piano while she was in the kitchen, calling out corrections or suggestions to the son/daughter at the piano as she finished getting supper ready. Anita is the one who evidently took those comments to heart, and today plays beautifully!  Singing involved all of the family except Mom, who preferred to accompany, not sing.
            Five children were born to the couple and farming was the center of their lives.  Later, their visiting grandchildren from the city were often enthralled with exotic animals they didn't know well (like pigs and cows)!   Avonelle knew that Kenneth had always been fascinated by airplanes and he enjoyed several years of flying his own plane.  She was quite relieved when he finally sold his small Piper Cub and kept both feet on the ground!  Avonelle enjoyed gardening, growing beautiful roses and other flowers, and she was also active in women's groups at Lands Church.  When her children were older, Avonelle went back to teaching English and music at Harrisburg and at the Academy.  After retiring from farming, mom and dad spent many winters in the warmer climate of Mesa, Arizona.  While there, Avonelle enjoyed classes in china painting and in making and dressing porcelain dolls.  Many grandchildren, nieces and nephews have items that were made by her hands.  Her five children regard the items she made and gave to them as special keepsakes.  For many years, wherever she lived, Avonelle displayed several of her dolls which started many conversations with grandchildren and guests. Mom and Dad also did a lot of traveling together over the years, which provided many stories and memories of almost all USA states, plus China, Germany and Mexico.
            Mom and Dad's marriage of 60 years demonstrated love, respect, and it was a fine example for their kids of what a successful marriage could be.  Church was a major focus for their lives and family.  Mom took everything in stride with patience and a calm approach, always seeing the positive when making decisions or in discussions, and she showed us how important it was to be a family.  She made "biscuits & honey" almost every Sunday simply because Dad enjoyed them. Her yeast rolls are famous and some grandchildren still use her recipe.  She also loved to entertain, using tablecloths and china dishes.  We remember our first introduction to hors d'oeuvres and it was our job was to offer guests a tray of crackers and cheese.  More importantly, we observed her at church and in the community as she greeted all people with kindness, keeping an eye out for the person who was alone and making sure they felt noticed and valued.  Her use of wit and humor really developed in her last years.  With a twinkle in her eye, she could hand it back to Dave and leave him speechless, while the rest of us were in hysterics!
            Kenneth died in 2002 and Avonelle lived in Canton for several years before moving to Beresford.  She was quite content wherever she lived, but she often mentioned, "I still miss Kenneth."  Now they are together again in heaven, joining parents, siblings and relatives in a joyous family reunion. Our family was planning to gather this same weekend to celebrate Avonelle's 101st birthday, but now we are together with relatives, friends and neighbors to celebrate her life.  We love you, Mom and we will miss you!
          Her funeral service will be at 2:00 pm Saturday, February 17, at Lands Lutheran Church, rural Hudson, SD. Visitation will be from 2 to 8:00 pm Friday, February 16, at Anderson Funeral Home in Canton, SD. Family will greet visitors from 5 to 8:00 pm.