Visitation: Visitation will be Friday from 2-8 p.m., with family present from 6-8 p.m., at Anderson Funeral Home in Canton
Service: Funeral services will begin at 10:30 a.m. Saturday, May 5, 2012 at Canton Lutheran Church with burial to follow at Forest Hill Cemetery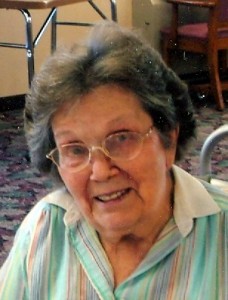 Athalyn A. Bakkene, age 92, passed away Tuesday, May 1, 2012 at Sanford Canton-Inwood Hospital.  Funeral services will be at 10:30 AM Saturday, May 5, at Canton Lutheran Church, with burial at Forest Hill Cemetery near Canton.  Visitation will be Friday from 2 to 8 PM at Anderson Funeral Home in Canton.  Family will greet visitors from 6 to 8 PM.  In lieu of flowers, memorials may be directed to Canton Lutheran Church. 
          Athalyn, one of nine children, was born December 4, 1919 at Aurora, SD to Everett and Mary (Johnson) Sanderson.  She graduated from Brookings High School in 1938 and attended Samuel's Beauty School in Sioux City, IA.  She moved to Canton in 1940.
          Athalyn married Johnnie Bakkene Feb. 1, 1942 in Canton, where they raised their children, Lynn and Lorin.   She worked as a beautician early in her marriage and later was employed at Home Federal Saving Bank as secretary and insurance agent for several years.  A member of Canton Lutheran, she was active in WELCA, Care and Share, Circle, and taught Sunday school.  She was a member of the VFW and American Legion Auxiliaries and volunteered at the Canton Public Library.  Her hobbies included upholstering, sewing, and word games.
          Athalyn is survived by her children, Lynn (Louis) Ungarelli, Enfield, NH and Lorin Bakkene, Altoona, IA; 3 grandchildren, Anthony, John, and Stephanie; and 7 great-grandchildren.  She was preceded in death by her parents, her husband, and eight brothers and sisters.