Visitation: Visitation with family present will be Friday, April 1 from 6:00 to 8:00 pm at Bethany Reformed Church
Service: Funeral services will begin at 10:00 a.m. Saturday, April 2, 2011 at Bethany Reformed Church in Canton, SD, with burial at Richland Cemetery in Inwood, IA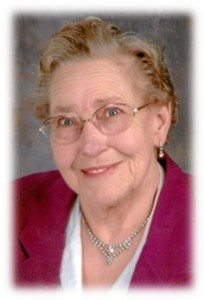 Anna Dean Hilt passed away on March 29, 2011 at the Good Samaritan Nursing Home in Canton, SD.  Anna Dean (Overweg) was born in Waubay, SD on April 21, 1932. She grew up in the Stickney area before settling down in the Inwood, IA area with her family. She attended local country school and New Holland Christian School up until 8th grade, and then continued to help out her family on the farm.
 In March of 1953 she married John Hilt. Together they had four daughters: Anna, Rhonda, Tamera and LaVonna. She and John eventually settled in the Canton, SD area to raise their daughters.
 Anna Dean loved knitting, crocheting, and baking for family and friends, especially around the holidays. She also enjoyed visiting with her daughters and their families, her grandchildren and her friends over afternoon tea or coffee. She also enjoyed being a member of Bethany Reformed Church and listening to the sermons by the pastor. She had a great faith that lasted throughout her life until her last days.
 She was preceded in death by her parents, John and Hattie Overweg; and two daughters, Tamera Hilt and Rhonda Kidd.
 She is survived by her former husband, John Hilt; daughters: Anna Mundt (Jerry) and LaVonna Lems (Tim), all of Canton, SD; son-in-law David Kidd of Westminster, CO; seven grandchildren: Tamera Davis (Lennie), Sara Mundt (Doug Greenfield), Jason Mundt (Ashley), Stephanie Kidd (Jason Furley), Jonathan Kidd (Brittney Whittington), Emily Lems (Ted Souvignier), and Molly Lems (Dan Windschill); and one great-grandchild, Ethan Lee Furley.
 Other survivors include her sisters Harriet Vande Kieft of Rock Valley, IA; Marlene (Darwin) Kots of Colorado Springs, CO, brothers Dennis (Gert) Overweg of Sioux Falls, SD, Don (Ethel) Overweg of Arcadia FL, and John (Alma) Overweg of Modesto, CA; along with numerous nieces, nephews, and cousins.
 Funeral services will begin at 10:00 a.m. Saturday, April 2, 2011 at Bethany Reformed Church in Canton, SD, with burial at Richland Cemetery in Inwood, IA. Visitation with family present will be Friday, April 1 from 6:00 to 8:00 pm at Bethany Reformed Church.