Service: A celebration of her life will be held on Saturday February 12 from 1-3 p.m. at Anderson Funeral Home, Canton, SD.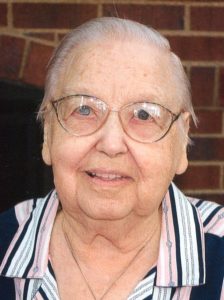 Alice E. (Swensen) Lukes-Sample, age 93, died peacefully Monday, February 7, 2022 at her daughter's home.  A celebration of her life, with family present, will be held on Saturday, February 12 from 1-3 p.m. at Anderson Funeral Home, Canton, SD.  www.andersonandsonsfh.com
            Alice was born on October 23, 1928 in Wakonda, SD to Arthur and Ethel (Falstad) Swensen.  She grew up in Wakonda, graduating from Wakonda High School in 1946.  During high school she worked for Dr. E Robert Schwartz and babysitting numerous children.  After graduation, she worked at Glenn Sample Pharmacy in Wakonda.
            She married Donald Frank Lukes on September 12, 1948 in Yankton, SD. The couple made their home in Sioux Falls, SD.  Gail and Sandra were born to this union.  Besides raising her children, she babysat for hundreds of kids through the years. Donald died on March 8, 1991.  She married Glenn Elmer Sample on May 9, 1995 in The Little Brown Church in the Vale, Nashua, IA.  The couple resided in Sioux Falls.  Glenn died on December 19, 2006.
            Alice enjoyed knitting baby blankets, crossword puzzles, and collecting bunnies.  Above all else, Alice loved children, especially her grandchildren.  She was a member of Grace Lutheran Church, a life member of the VFW Auxiliary and DAV Auxiliary, and volunteered at Bethany, Southridge, and the VA nursing homes.
            Grateful for sharing her life are her daughters, Gail L. Sletten, Beresford, SD and Sandra J. (Larry) Wibeto, Mesa, AZ; sister, Constance A. (Tom) Grass, Gayville, SD; 7 grandchildren: Toby, Casey, Lonny, Lory, Adam, Lisa, and Katie; 16 great-grandchildren: Celeste, Chaz, Zariah, Jerin, Jordyn, Selena, Gage, Jurnie, Jerrica, Kaidyn, Ava, Ella, Bennett, Avery, Oaklee, and Lincoln; great-great grandchild, Dakota; along with numerous extended family and friends.  She was preceded in death by her parents; husbands, Donald Lukes and Glenn Sample; sister, Clara Swensen; brothers, Leslie and Irl Swensen; infant brother, Irl Swensen; son-in-law, Paul R. Sletten; and grandson, Donny Lukes.