Visitation: Family will greet visitors one hour prior to the service.
Service:         Memorial services will be held at 4:00 p.m. Wednesday, November 17 at Anderson Funeral Home in Canton, SD.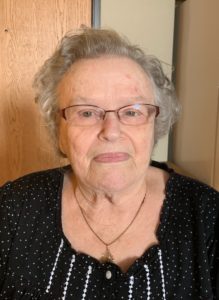 Lois Marie Wheeless was born to Lewis and Viola Krier on March 2, 1932 in Big Stone, Minnesota.  She had 4 brothers; Duane, Kenneth, Robert, and Melvin.
          She had 7 children: Roger Sperle, Alcester; Diana (Jack) Ashmore, Canton; JoAnn (Tom) Eiesland, Canton; Alvin (Marla) Sperle, Missouri; Viola Sperle, Missouri; Donny Sperle, Missouri; Lois (John) Gorman, Illinois.  She was blessed with 17 grandchildren, 27 great-grandchildren, and 1 great-great-grandchild.
          She passed peacefully on November 14th with loved ones by her side.  She is preceded in death by her parents, Lewis and Viola (Kahler) Krier; brother, Melvin Krier; grandson, Michael Hamann; and great-granddaughter, Emersyn Eiesland.
          Memorial services will be held at 4:00 p.m. Wednesday, November 17 at Anderson Funeral Home in Canton, SD.  Family will greet visitors one hour prior to the service.  Memorials may be directed to Dougherty Hospice House. www.andersonandsonsfh.com