Visitation: Visitation will be Friday from 2-8 p.m., family present 6-8 p.m., at Heritage Funeral Home in Sioux Falls.
Service: Funeral services will begin at 10:30 a.m. Saturday, August 4 at Our Savior's Lutheran Church in Sioux Falls, SD.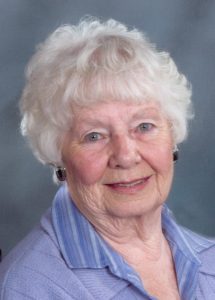 Obituary for Audrey Irene (Robbins) Anderson – Died on Tuesday, July 31, 2018 at the Good Samaritan Care Center on N. Minnesota Avenue in Sioux Falls, SD
Audrey Irene (Robbins) Anderson, 89 years old, was born August 14, 1928 in her home in Beloit, Iowa to her parents Martin Luther Robbins and Mildred Irene (Mullinix) Robbins. She was married to Harry T. Anderson for 67 years.
Audrey spent her early years growing up in the Canton, SD area. Her family moved from Beloit to a farm near Worthing, SD where they farmed for a couple of years. Then they moved to Canton. In the Dirty Thirty's Audrey's dad decided to move to California. Audrey, Laura, and her mother stayed in SD while her dad found work in California. After some months Audrey's mom decided to go to California and had Annie Lucille (White) Mullinix, her mother take care of Audrey and Laura, her little sister. Mildred returned for her children when they had jobs.
As a child Audrey lived in Oakland and later in Richmond, California. She also attended school in Oakland, Richmond, California and Canton, SD. After high school, Audrey returned to Canton with her Uncle Glen. On the vacation Audrey met Harry Tilford Anderson from Hudson, SD at the Lu Doc Café in Canton. It was love at first sight. They met in May and were married August 23, 1946, a week after Audrey's eighteenth birthday. Audrey often told the story of meeting Harry. They bought her ring in Sioux City, IA.
Harry and Audrey lived on a farm 4 ½ miles NW of Hudson with Harry's parents (Richard and Hilda Anderson) and Bill (brother of Harry's) and Mary (wife of Bill) Anderson for the first year and a half of their marriage. Then they moved to two different farms in the area. One farm was the Louie and Hazel Andrews farm located four miles NW of Hudson SD on the Pattee Creek Ranch, just one quarter of a mile from the farm of Harry's parents, where he was born.
The third farm became known as the Harry Anderson farm. It was 3-4 miles straight south of the Newton Hills State Park, across the road just east from Trinity Lutheran Church . (The farm was about seven miles west from Hudson, SD and a mile and a half north.)The farm was kept mowed like a park and had buildings that were regularly painted to preserve the wood. They were proud of their home.
Audrey loved living in her house with two staircases. She felt as if she were living in a mansion. She was always decorating, refinishing the wood floors by hand, or improving her home for her family. Harry with his carpentry skills converted the bedroom on the south side of the house to the kitchen and put the bedroom where the kitchen had been. Audrey wanted to see the action of the farm yard so she asked Harry to switch the two rooms. Harry also built a new bathroom on the first floor for the family. Audrey asked Grandpa Anderson to make wood cornices for her dining and living room windows. He did. These were always treasured pieces.
Audrey loved gardening, canning, cooking and baking. Her bread and cinnamon rolls were two of the family favorites. Audrey kept a huge garden filled with sweet corn, tomatoes, squash, pumpkins, watermelon, strawberries, gourds, peppers, lettuce, green beans, carrots, beets. She canned and froze food for the winter months. She also picked apples and plums to preserve them to make pies or jam. Chickens were raised and prepared for eating. They were stored in the new freezer.
Audrey made sure that her children attended church, Sunday School, Vacation Bible School, and Bible camp (if her children wanted to attend). Audrey always sent a card to her children at Bible Camp or 4-H Camp. Little did the children know that Audrey had sent the cards before the children had left for camp so that they would receive the letters or cards in the short time they were away. (No email) Audrey also was involved in teaching Sunday School, Bible Study, Circle or Ladies' Aide and helping with Communion. She instilled the belief and love of God in her children. She provided the sense of hope and wonder that is needed for the tough times.
Audrey and Harry also had a couples bowling night where they had fun together. Audrey and Harry also each had their own separate bowling nights. When Audrey left her children to go bowling, she would always ask them, "What kind of treat can I bring for you from the Bowling Alley?" We would name our favor chips or candy, and Audrey would always have a treat for her children when she came back home.
Audrey and Harry missed their parents and brought their children to California or Chicago, Illinois for visits. These trips inspire the love of travel and adventure in their children and helped them make a connection with aunts, uncles and cousins. Audrey always made the trips fun and made the family laugh and kept them engaged in learning and concentration games.
Audrey was a good work mate. She worked in the fields driving the tractor cultivating crops, windrowing, disking, putting up hay, walking the beans, taking mid-morning snacks, and mid-day lunch and mid-afternoon snacks to Harry. Audrey would also cook for10 or more men who helped Harry with corn shelling or bringing in the crop. Audrey loved working with her husband Harry. They would paint the house, barn and outside buildings together, mow the yard together, plant together. Work was fun because they were together. Their children witnessed this love and made their children love work too.
Audrey made life fun. She made sure that family supported one another. The family cheered Harry as he pitched the ball, played first base, or made a hit or home run in the Hudson Men's Softball League. When the children were younger, Harry and Audrey supported their children in school and extracurricular activities. They attended all their games. They also joined the Hudson Saddle Club for the children and watched them participate in the horse races. They also spent weekends camping and swimming at Lewis and Clark Lake, Gavins Point Dam in Yankton, SD. Many Hudson people would come to visit the family for fellowship, food and laughter at the camp site.
Audrey even made house cleaning fun. She loved music and singing. When she and her children cleaned the house, she would play the Sound of Music Album or Roger Miller's Album with the song, "You Can't Roller Skate in a Buffalo Herd" and she would say, "Now, when the album is finished playing, we will be finished with our cleaning. We sang the songs and before we knew it, the house was cleaned. We had turned house cleaning into fun. Yes, the family was close knit in work and play.
Audrey loved learning. Her love for learning and education was reflected in her constant reading of books, encyclopedias, magazines, newspapers. One of her favorite pastimes was doing crosswords puzzles and the jumbo in the Argus Leader. She was a pro. She could have the crossword completed in ten to fifteen minutes. In the last years of life, Harry and Audrey also did Sudoku, but she loved crossword better.
Audrey loved cooking and entertaining company. She always provided an inviting, well decorated home with warm hospitality. At holidays, she served grand feasts fit for a king. The house was filled with the smell of celebration and the laughter of friends and family.
Audrey also worked outside of the home at various times. While still on the farm, she worked in Hawarden, Iowa at the Otis Radio and TV Plant and later at the Hudson Public Schools as a cook. In 1970, Harry and Audrey and the two youngest children Roxanne and Richard moved to Hudson. Then Audrey worked at the Hudson Colonial Manor, a senior care facility, as the head cook.
In 1976, Audrey and Harry moved to Sioux Falls, SD. In Sioux Falls, while Harry continued to work in real estate, Audrey baby sat her grandchildren and liked sewing clothes for them. Audrey also worked in retail in Younkers and JC Penny's. She then worked for the Sioux Falls, School District as a cook at the Central Kitchen and also worked in the kitchens of Patrick Henry and Lincoln High School. Audrey loved cooking and loved being around the school children.
In 1980, Audrey and Harry went to Europe to visit Rhonda who had a Fulbright to teach at a German school in Munich. For ten days, they traveled through several European countries and enjoyed new experiences and different cultures, but the most heart- warming experiences were just being with one another.
Harry and Audrey's love of working in their yard and nurturing flowers still continued when they moved to Sioux Falls. After working on the farm for so many years, they were connected to the soil, to the earth.
In their retirement years, Harry and Audrey wintered for a couple of month in California in the Walnut Creek Area by San Jose where her parents lived. When Audrey's parents died, they decided to stay in SD for the winters. Active Generations in Sioux Falls took on a greater role in Audrey, Harry and Robert's lives. At Active Generations, they would eat a noon meal, meet friends, visit, sing, play cards, go to birthday parties, and participate in various other events to make life full. They even took a bus trip to New York City for two weeks through a company provided by the Center. After Harry's passing, Robert continued to take Audrey to Active Generations for breakfast and lunch in order to stay connected with others.
Audrey was a mom and a wife who always put herself last. She was a care taker and a supporter of her children's and husband's efforts. She was the "stuff" that made things work. She held the family members accountable, she challenged them to be the best they could be, to get involved in community, to respect self and others, and to believe in God. Audrey provided so much love. Her children and husband were her world.
Audrey passed away in a peaceful sleep. The family is grateful for the care of the Good Samaritan Care Center in Sioux Falls.
Audrey is survived by one sister: Mary Lou Robbins (Campbell, CA) and her four children Raina (Vidal) Dziedzic (CA – four children); Christopher Vidal (CA – one child); Summer (Vidal) Torres (CA – Kate – two children); Rusty A. Bolinger (CA – one child). Audrey is survived by sister Laura (deceased )Turner's children: Paul Turner (CA- two children); Joey Turner (CA); Susan Turner (Redding, CA – two children); David Turner (Vallejo, CA)
Audrey's four surviving children: Robert D. Anderson (Sioux Falls, SD), Dr. Rhonda R. Anderson (Sioux Falls, SD), Roxanne L. Anderson Horner (Douglas Horner – Charlotte, NC) Richard C. Anderson (Jaye Anderson – Sioux Falls, SD).
Grandchildren Russell Anderson's two daughters: Shermane (Anderson) Bryant (Chris Bryant -Lennox, SD), Samantha Anderson (Adrian, MN); Rochelle Perry (Dave Perry – Austin, TX- Calvin, Elliot, Levi); Roth Anderson (Sioux Falls, SD); Brooke R. Horner (Carrboro, NC); Erin (Horner) Parrish (Shane Parrish – Chapel Hill, NC); Tannen Loge (Angie Loge – Minneapolis, MN – Keithen); Layne (Loge) Miller(Drew Miller – Minneapolis, MN – Reese) Alison Anderson (Sioux Falls, SD); Brian Anderson (Pinehurst, NC)
Audrey's extended family of nieces, nephews, cousins and friends.
Audrey was preceded in death by her husband of 67 years, Harry T. Anderson (Sioux Falls, SD), Her parents Martin and Mildred Robbins (San Jose, CA), her sister Laura Naomi Turner (San Jose, CA), daughter-in- law Peg (Hoiland) Anderson (Sioux Falls, SD); grandson Russell Keith Anderson (Sioux Falls, SD), granddaughter Jill Renee Horner (Charlotte, NC),
Visitation is Friday, August 3 from 2-8 PM at Heritage Funeral Home with family present from 6-8 PM. Funeral Service is Saturday, August 4 at 10:30 AM at Our Saviors' Lutheran Church.